Sevic starts cooperation with ANG Vehicle Technologies to provide flexible and efficient vehicle platform for last mile delivery in Poland
Launch of Sevic in Poland in the cooperation with ANG Vehicle Technologies

Shared urban transport solutions offered by ANG Vehicle Technologies from September 2022

ANG to become dealer in Poland with support throughout the whole buying process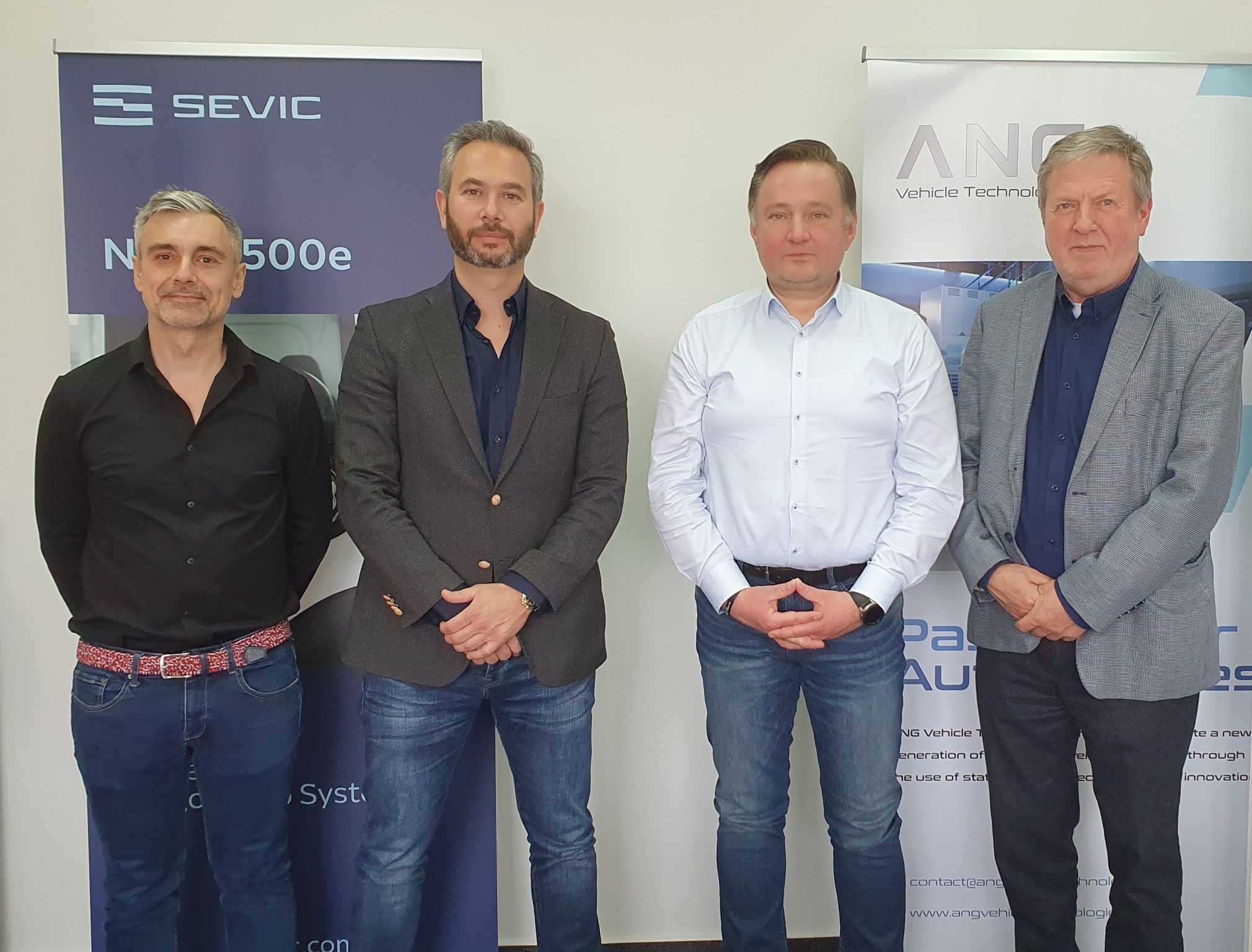 Tomasz Balcerzak (International Sales Manager Sevic Systems SE), Alexander Brilis (General Manager Sevic Systems SE), Daniel Konrad Węgrzynek (CEO EV Fleet Group & CEO ANG Vehicle Technologies) and Roman Rosinski (Sales Manager ANG Vehicle Technologies) at the contract signing.
Sevic, the European manufacturer of compact electric vans, is starting a new cooperation in Poland. ANG Vehicle Technologies becomes a strategic partner of Sevic Systems SE. Together they will bring a new standard of quality and durability, providing a flexible and efficient vehicle platform for last mile delivery.
The V500e is a compact L7e-CU class electric transporter, ideal for use in urban areas. The vehicle is built in Europe, with more than 80 percent of the components used also coming from European production. Sevic has access to an extremely stable supply chain and an excellent supply of spare parts. 
Thanks to the Cargo Swap system, the superstructures can also be exchanged individually. What's more, the cargo boxes can be interchanged within two minutes, which is beneficial for Last Mile Logistics. This significantly reduces downtime and increases efficiency.
ANG Vehicle Technologies will introduce an innovative vehicle concept with Cargo Swap System combined with shared urban transport solutions. The project will launch in the Polish market starting September 2022. They are also focused on assisting customers during the whole purchase process, offering consultation in the area of total energy consumption of the fleet, urban logistics process design and benefits of shared transport solutions.
"It is our next supplier of vehicles in the micromobility area. Together with Sevic eMobility we want to develop this mobility format. The vehicle is 100% manufactured in Europe. This gives us a guarantee of on-time deliveries to our customers. The vehicle is a very versatile platform thanks to the interchangeable body system. This gives us a huge advantage in the market," said Daniel Węgrzynek, CEO of ANG Vehicle Technologies.
"We are delighted to start the cooperation with our new partner ANG Vehicle Technologies. Their great passion, innovative ideas and inspired vision will help us to redefine commercial urban mobility in Poland, together. We are also excited that ANG will soon become part of the cargo body solutions portfolio offered by Sevic." said Sevic General Manager Alexander Brilis.
About Sevic Systems SE
Sevic designs, engineers and manufactures in Europe compact all-electric commercial vehicles that are adaptable, flexible and cost-effective, helping companies reduce maintenance, labor and operating costs. The vehicles use smart architecture with interchangeable cargo structures and are ideal for last-mile solutions. The range includes freight boxes for the last mile, customized boxes for postal services, flatbed vehicles for municipalities and many other customized solutions.
Sevic is strategically located in the industrial heart of Germany (Bochum) and has extensive expertise thanks to various success stories in the mobility sector.
The production facility in Bulgaria/Europe is a state-of-the-art facility operated in a joint venture with Milara International Ltd - a global leader in robotics manufacturing.
About ANG Vehicle Technologies Sp. z o.o.
ANG Vehicle Technologies is a newly created company by Future Technologies - Venture Builder associated with EV Fleet Group. ANG creates and designs intelligent bodies and a new generation of solutions based on the best available technologies. ANG Vehicle Technologies will specialize in innovative designs and dedicated solutions for electric and other alternative fuel vans and trucks.
ANG is located in the industrial center Mielec in south-eastern Poland.
For more information, visit their LinkedIn page: https://www.linkedin.com/company/ang-sp-zo-o